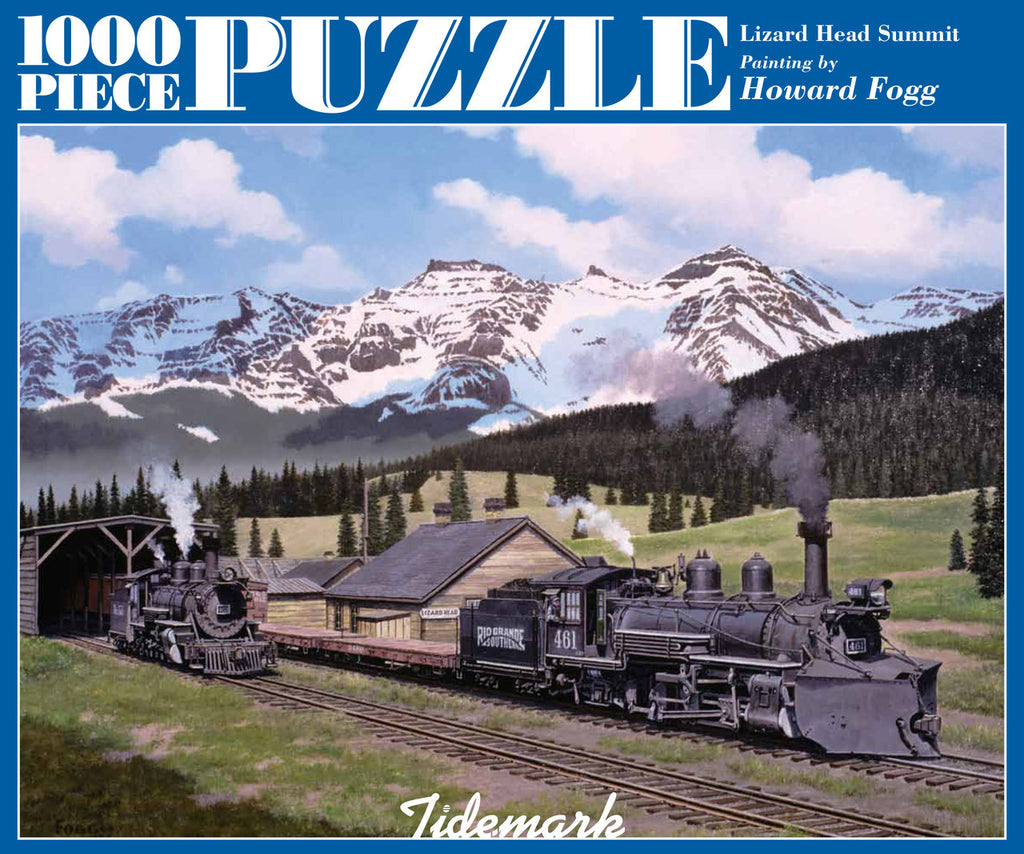 Lizard Head Puzzle by Howard Fogg
Quick View
The Lizard Head jigsaw puzzle pictures the San Miguel Mountains serving as a magnificent backdrop for Rio Grande Southern 461, a Denver and Rio Grande Western hand-me-down, as it pulls...

Type: Puzzle
The Lizard Head jigsaw puzzle pictures the San Miguel Mountains serving as a magnificent backdrop for Rio Grande Southern 461, a Denver and Rio Grande Western hand-me-down, as it pulls past the depot at the summit of Lizard Head Pass, about 20 miles southwest of Telluride, Colorado. D&RGW 463, which was on a short-term lease, has assisted the train to the top of the hill, and shortly it will be on its way, running light to the division point at Rico,  Colorado, with 461 and its train following about a one-half hour later. It is the early summer of 1951, the last year of operations on the Southern. Abandonment would follow the next year.
Lizard Head Summit Jigsaw Puzzle | 1,000 Pieces | Finished size: 19 by 26 inches | Artist: Howard Fogg | Published by Tide-mark

About Artist Howard Fogg
In 1946, Fogg was fortunate to meet with Duncan Fraser, the president of American Locomotive Co. (ALCO) in New York. Impressed by Fogg's work, Fraser hired the young artist. His work for ALCO brought Fogg into contact with Lucius Beebe who began commissioning and reproducing Fogg paintings in a railroad book. During the course of his long career as an artist, Howard Fogg completed more than 1,200 paintings, most in watercolor, although some 200 were in oil. As a young artist, he completed 45 paintings for ALCO in a single year. As a freelance painter, he often needed about two weeks to complete one work, while late in his career each painting took about six weeks to complete.